About the US-MAP Consortium
The US-MAP Consortium seeks to regain U.S. dominance in optoelectronic and photonic manufacturing.
Our Vision
Our vision is to: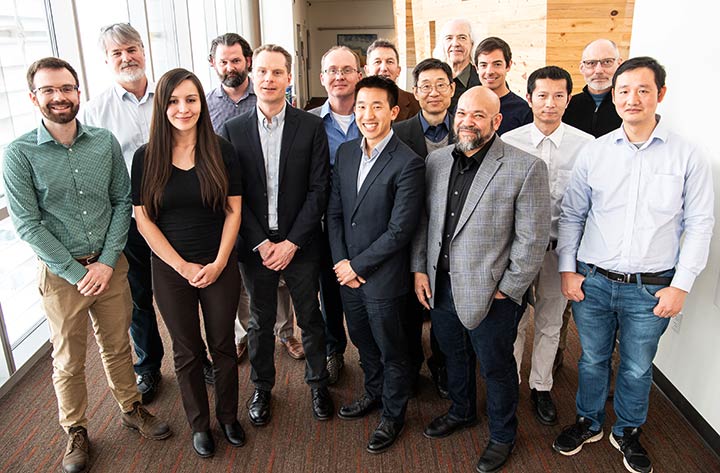 Address reliability barriers to market entry by providing standardized stress testing to assess the intrinsic stability of devices/cells and modules
Conduct cross-cutting precompetitive basic science to provide foundational insights to accelerate R&D progress and manufacturing scale-up
Provide low-cost access to capital equipment, tools, facilities, and expertise through shared corporate research laboratory resources and by leveraging existing investments in capabilities to provide a foundation for agile response to consortium members' emerging needs.
Learn about our partners and leadership, or download our fact sheet.
Our Purpose
The US-MAP Consortium hosts shared R&D, testing, and pilot manufacturing to provide reduced development costs and times for its members and mitigation of technology risk for potential investors.
Shared manufacturing and testing facilities—and, critically, the expertise offered with them—provide members with a cost-effective and rapid means to develop scalable manufacturing methods and test the viability of their products. Members avoid the need for significant duplicative capital investment in equipment, maintain ownership of intellectual property, and access critical expertise required to prove manufacturability and product reliability. Our facilities de-risk key hurdles and provide a bridge over the development and commercialization phase, where emerging companies lack the resources to prototype comprehensive manufacturing capabilities to satisfy potential investors.
Engaging manufacturing equipment and materials suppliers in the value chain through US-MAP's shared facilities provides an opportunity for members to directly and cost-effectively demonstrate the ability of those tools and raw materials to meet their needs, thus mitigating manufacturing scale-up risks to their investors.
Funding
The founding organizers will explore funding from a variety of sources, including industrial members and the U.S. federal government. In addition, some US-MAP founding organizers are funded by state and local government programs intended to foster regional economic development within the United States. The founding organizers and domestic industry partners received early investments from the U.S. Department of Energy, its Solar Energy Technologies Office and Office of Science, and the U.S. Department of Defense. These investments have enabled the U.S. to be at the forefront of many of these technology areas and have fostered a vibrant community of industrial leaders. In addition, a number of the US-MAP organizers, capability providers, and industry members are individually funded for perovskite solar R&D by the Solar Energy Technologies Office.